Even for fudged numbers, the final unemployment report isn't good news and is further proof that the extreme far-Left policies of Richard Milhous Obama aren't working (
BLS
via
Legal Insurrection
).
Total nonfarm payroll employment increased by 171,000 in October, and the unemployment rate was essentially unchanged at 7.9 percent, the U.S. Bureau of Labor Statistics reported today. Employment rose in professional and business services, health care, and retail trade.
Both the unemployment rate (7.9 percent) and the number of unemployed persons (12.3 million) were essentially unchanged in October, following declines in September. (See table A-1.)
Among the major worker groups, the unemployment rate for blacks increased to 14.3 percent in October, while the rates for adult men (7.3 percent), adult women (7.2 percent), teenagers (23.7 percent), whites (7.0 percent), and Hispanics (10.0 percent) showed little or no change. The jobless rate for Asians was 4.9 percent in October (not seasonally adjusted), down from 7.3 percent a year earlier. (See tables A-1, A-2, and A-3.)
In October, the number of long-term unemployed (those jobless for 27 weeks or more) was little changed at 5.0 million. These individuals accounted for 40.6 percent of the unemployed. (See table A-12.).
In the third paragraph, you see the unemployment rate for blacks is up to 14.3 percent. The
Weekly Standard notes
it was 13.4 percent in September.
According to James Pethokoukis, the number would be 10.6 percent if the labor force was as big as when Obama took office.
That didn't stop the pro-union Obama Secretary of Labor Hilda Solis from passing out candy in celebration to reporters (via
Kristinn at FreeRepublic
).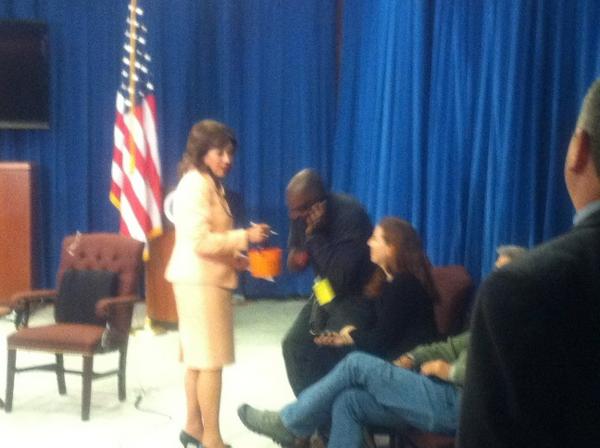 Remember that
Obama promised unemployment would be 5.2 to 5.3 percent at the end of his first term
, if the so-called "stimulus" was passed? But his union goon secretary of labor is passing out candy "celebrating" 7.9 percent unemployment, even after millions have dropped out of the workforce in the last four years.
And she thinks these numbers are worth celebrating? It's only going to get worse in the months to come. Thanks to the military cuts planned by the Regime, almost 200,000 defense jobs in Virginia are projected to be cut.
Obama only made sure the pink slips go out after the election, in violation of the law
.
Keep in mind too, 178,000 jobs were created in October 1992, and the lib media said George H.W. Bush's economy was the "worst since the Great Depression." He lost to Slick Willie Clinton a few days later. Obama's comes in 7K less and it's time to celebrate?
Don't be fooled, folks, this is more proof that four days away from the most important election in our lifetime, Obama has failed and should be voted out of office.
America deserves better.